If you chose to stay in Lilium Luxury Suites over the next few months, you will notice a number of alterations – additions to the Suite's & Hotel's operation designed to minimize risk and enhance safety for our guests and stuff.
The enhanced measures our Suites is implementing, in compliance with the mandatory criteria and extra recommendations of Greece's Hotel Safety Protocols, include the following: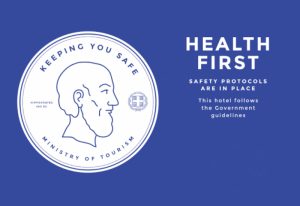 Team members (staff) Training
Training on COVID-19 safety and sanitation protocols to all employees
Informative posters throughout the staff areas
Personal Protective Equipment
Provision o personal protective equipment to all employees
Hand sanitizing stations for our guests and staff around public areas
Physical distance
Floor signage and informative posters for physical distance
Proper arrangement of restaurant, bar and pool tables to ensure appropriate distancing.
Cleaning and disinfection protocols
Guest rooms
We have chosen approved for use disinfectants effective against bacteria and viruses and appropriate for SARS- CoV-2.
Enhanced cleaning and disinfection protocols are used to clean guest rooms with attention to high touched surfaces
Steam cleaners for the disinfection of fabric surfaces such us sofas, chairs.
All decorative items are suspended.
Housekeeping trolleys are sanitized after each shift.
The daily cleaning is remained. It can be reduced upon request on the reception desk.
Turn down service is temporarily suspended
The linen change is performed upon guest request.
.
Public areas
Increased frequency of disinfection of all public areas and staff areas with attention to high touched surfaces
Steam cleaners for the disinfection of fabric surfaces
Dining tables, bar stools, chairs etc disinfected after each use
Recommendation to all guests the usage of their in room WC
Touchless public garbage bins available in public areas
Air Conditioning Cleaning, according to governmental protocols
For Lilium Village Hotel
(sister Hotel clients)
Front office desk
Guests personal data (address, telephone number, email)  during check in, for public health protection and the possible need of tracing
Protective plexiglass installed at the front desk
Appropriate floor signage for physical distancing
POS terminals disinfected after guest use
Working surfaces & Shared Equipment disinfected regularly
Luggage trolley disinfected after each usage by doorman.
A complete medical kit  available at front office
Credit card as a payment method instead of cash will be reinforced.
Elevator use
Guests are enhanced to prefer the use of stairs.
Maximum capacity of persons is signed in the entrance
Guests are enhanced to use the elevator only if staying in the same room
Hand sanitizer available in all elevator
Disinfection of the button panels is performed on a regular basis
Restaurant services
A hand disinfection stand in every restaurant entrance.
The buffet will be served only by our team members
Napkin service is suspended and replaced by one usage napkin
Set up of table is completed upon guest's arrival.
When possible, individual packaged serving items are used.
Tables are arranged with appropriate physical distancing
Room service all plates are properly covered. Room service extra charge will be suspended.
Pool Operation
Max capacity number of person in the pool is 1per5m2. .
Lounge chairs and tables are arranged with appropriate physical distance and  disinfected after each use,
The use of Internal swimming pools is suspended.
Pool towels are provided to guests every day.
Suppliers of goods & services
All our Contractors and suppliers of goods and services follow similar Safety Protocols measures.
No access is allowed within the hotel
The hotel has in place an action plan in case of COVID-19 suspected cases of guests or stuff member which complies with Greece's Hotel protocols and legislation.
The Management of our Hotel is committed in fully implementing Greece's Hotel Safety Protocols. We wish you a safe and pleasant stay in our hotel !